Fire Damage Restoration – New York City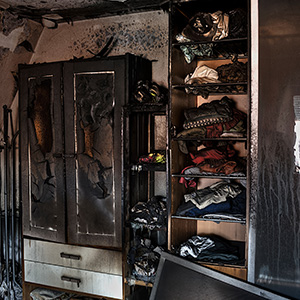 New York City fires are caused in theaters from props, natural disasters like Hurricane Sandy, or in buildings throughout the city. If your building suffers fire damage, it's likely your home will as well because of the proximity of properties.
Seeing your possessions and your home consumed in flames is heart-wrenching in the way no other weather disaster is. You feel helpless and hopeless as your life is forever impacted.
Seeing the positive in fire damage restoration
You've just suffered a devastating loss and like a majority of your possessions are gone, but there is some reassurance in fire damage restoration with 24/7 Property Cleaning and Restoration.
Salvage your belongings with 24/7 Property Cleaning and Restoration
The beauty in the ashes is when we can help you recover and restore priceless items such as pictures or other sentimental pieces that you thought were lost in the fire. With our help, we'll help you rescue and repair your most beloved things.
Our service technicians care about fire damage restoration
Because we take the time to invest and train in our service technicians, they're better able to serve you and make better fire damage restorations in your home and with your belongings. While other companies may brush off and claim an item is unrepairable, at 24/7 Property Cleaning and Restoration, we'll apply our knowledge and tools for a better outcome.
Our prompt response will aid in fire damage restoration
The sooner we can we can get in and address the fire damage, the more opportunity we have to help recover belongings and quickly work to identify any structural issues. Let us help save you time and money when you call us for fire damage restoration following the fire.
If you have post-fire damage and haven't sought help, connect with us today! We want to get you back into your home and recover your things, so you can go back to day-to-day living.
Call us today!